UN certified bulk bags are designed for the carriage of hazardous or potentially hazardous substances, goods or materials. UN big bags are made in accordance with the United Nations Recommendations on the Transportation of Dangerous Goods, more commonly known as the Orange Book and tested for road (ADR), railway (RID) and marine transportation (IMDG - Code). 
Why choose Wales for your UN Certified Bulk bag needs?
We test and design the bags so that they comply with all the requirements of a UN FIBC. We do
Top lift test
Tear test
Stacking test
Drop test
Topple test  
Righting test
This work is done in our own testing laboratories and is then ultimately certified officially by repeating the tests in an independent testing facility. The test results are the basis on which a unique UN number can be issued. And products manufactured fully based these UN regulations.
There are four types of FIBCs for dangerous goods made from woven plastics:
13 H1 - PP FIBC uncoated without liner
13 H2 - PP FIBC coated without liner
13 H3 - PP FIBC uncoated with liner
13 H3 - PP FIBC coated with liner
Classifications exist for UN BAGS:

Class 4.1
Flammable Solids, self reactive substances and desensitized explosives

Class 4.2
Substances liable to spontaneous combustion

Class 4.3
Substances which, in contact with water, emit flammable gases

Class 5.1
Oxidizing substances

Class 5.2
Organic peroxides

Class 5.3
Toxic substances

Class 8
Corrosive substances

Class 9
Miscellaneous dangerous substances and articles
UN Bags are also classified according to the Hazard level of goods they carry. Each UN Bag shall carry the UN-Symbol mentioned in the below table which shall imply the hazard level of the product.
Type of Bags:
| Degree of Danger | Packing Group | UN Symbol | Max. Volume |
| --- | --- | --- | --- |
| High | I | X | 1,5 m3 |
| Medium | II | Y | 3 m3 |
| Low | III | Z | 3 m3 |
All UN Bags are treated as multi-trip bags even though there is no safety factor 6:1. This term is unknown in the UN regulations. UN bags are not classified by safety factors. They are instead classified by packing groups I, II or III. The safety factor 6:1 refers to FIBCs for non-dangerous goods only.
UN Certified FIBC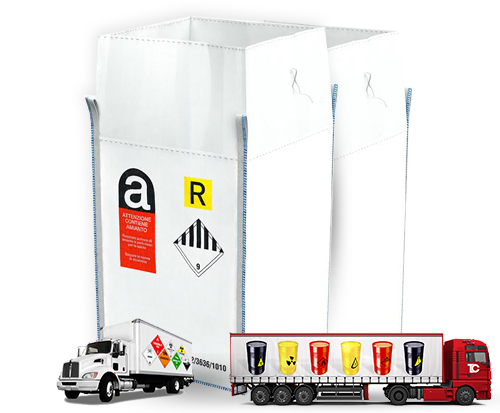 ENQUIRE NOW