Baffle Bags (also called Baffle FIBCs or Q Bags) are an ideal way to save cost through maximizing the amount of material you are able to transport in one.
The Baffle bag design is constructed by sewing four extra fabric panels across the four corners of the FIBC bag. Thus, when the bag is filled, the baffles prevent the sides from bulging out or falling over when being stored or transported, giving the bags a straight shape. And Wales certified Baffle bags are widely used in Food, Chemical and Pharmaceutical industries.
Advantage:
Up to 30% more material per bag as compared to the standard FIBC because of uniform material flow to all four corners.
Reduced spillage and better usage and optimization of the available storage space.
Improved stacking in the warehouse makes it look neater. So more efficient warehouse storage.
Remains within the Pallet dimensions when filled.
Lower freight costs, less pallets.
Type of Bags:
Open top and flat bottom

Duffle top and flat bottom

Filling spout and flat bottom

Open top and discharge spout

Duffle top and discharge spout

Filling spout and discharge spout

Open top and flat bottom
Duffle top and flat bottom

Filling spout and flat bottom

Open top and discharge spout

Duffle top and discharge spout

Filling spout and discharge spout

| SF | Safe Working Load | Design |
| --- | --- | --- |
| 5:1 | 500-1800kg | Single Trip |
| 6:1 | 500-1500kg | Multi Trip |
| 6:1 | 500-1500kg | UN Bags |
Standard Features:
SWL Range: 500 kg to 1800 kg.
S.F. : 5:1, 6:1
Fabric: UV stabilized woven polypropylene
Water Resistance: Lamination or polyethylene liner
4 Colour Printing.
Various Top and Bottom construction options.
UN approved Bags with a safety factor 6:1
ISO 21898 Certified bags
BRC and HACCP Food grade FIBC Bags
Baffle Bags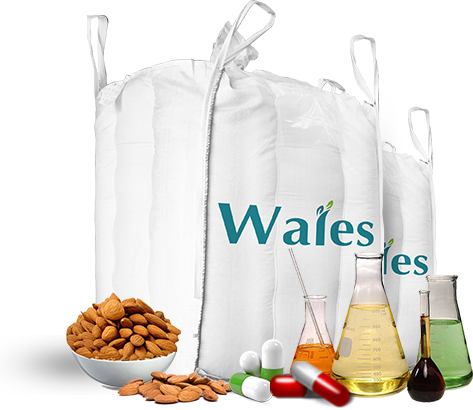 ENQUIRE NOW